WELCOME TO ATHOOR
My Athoor situated 62 km from Madurai, in Dindigul District of Tamil Nadu. This tiny village has an enchanting display of green vegetation, brimming lakes and virgin mountains all around. Most of the villagers are mainly engaged in agriculture. Paddy, coconut, mango, banana, groundnut and chilli are the main agricultural produce.
Athoor map http://wikimapia.org/667459/Athoor
For TAMIL click home page
locationS for Tourists
Kamarajar dam, temples and the caves in the hills add beauty to my athoor . Kamaraja Shakar Dam is a 400 acre monsoon-fed water body .This Dam is a beautiful location with the hills of the Western Ghats overlooking it. Fishermen in their coracles, coconut and banana plantations and cardamom estates are the common sights. Swimming is allowed. Bird watching is a recreational activity.
Coconut trees and mango trees are plentiful in the area, making a tropical atmosphere prevalent here. Taking long and leisurely walks through the countryside in the area is one of the most popular activities in this area. Several different walking trails are available for use in and around the village.
It is possible to experience some great bird watching while on your walk. Birds such as peacocks, storks, kingfishers, cranes, herons, and sunbirds are all known to frequent the area. In fact, one bird watching group from Great Britain was even able to document seeing 160 different species of birds in a short four day span of time. Trekking is another popular tourist activity in the area. With so many beautiful and natural sites to see, no wonder people want to do more than just briefly experience the landscape. Trekking allows for a long term connection to the natural experience around you. Although tigers are not usually seen in this area, other types of wildlife do flourish in the region. It is common to see leopards, mongoose, monkeys, bison, and wild boar throughout the area. Anyone that is interested in experience some breathtaking natural beauty will find Kamarajar dam to be an intriguing place to visit.
sadayandi Temple , vandikali Temple, Buddha Temple , punitha periya naayagi church, and kasi viswanatham visalatchi temple are impartent places in Athoor .
Sadayandi Temple is situated in the hill caves. Every year during the new moon of AADI (AMAVASAI) there is an interesting festival, which attracts a good 100000 pilgrims.
Shri Kasi Vishwanathar temple, located in Athoor, is one of the oldest and most famous temples in the vicinity. The Lingam constructed in this temple is similar to Kasi temple lingam. Those who are unable to visit Kasi can get the blessings of Lord Shiva from here.
Shri vandi kali amman temple of athoor is notified as a vary famous temple.Once in a year a festival is celebrated here. Alternate festivals of shri vandi kali amman temple and the other year muthal amman temple happens here.The village people think that ,this is their pleasure doing this festival.
Here a famous festival in south athoor happens in the month of October, just like Thiruvaiyaru Mahothsava.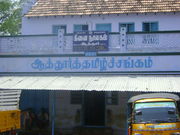 Accommodation
Accommodation facilities are available in Holland House, Double Dutch Resort, Lakeside View House and Cardamom House.
My Contact Information: M.Balaji Advocate , Madras High court , Chennai . 9840589308
Links to Other Sites